MARY LOUISE CARTER
ABOUT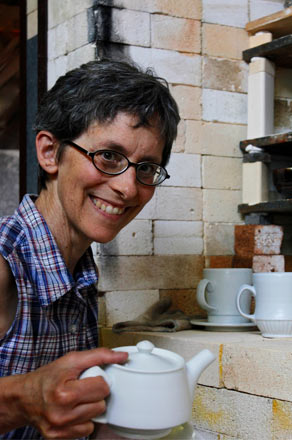 My desire to live and work in relationship to others is integral to my work as a functional potter. I imagine that everything I make will find a place in someone's life.
My work is about refinement. It is about honing in on the essential. I look at the way that nature creates — the connection between trunk and branch, stem and fruit, the way the petals of a flower unfurl. Could there be a better way to complete the human hand than the precise fit between skin and nail?
In my quest for clear and elegant solutions to form and function, I try to override my intellectual reaction; perfection is a trap I have encountered. Instead, I judge my work by trusting my physical response.
When someone I love walks into the room there is a bodily felt sensation. When the pot is right, a sense of warmth and excitement comes through.
I want my work to offer a safe haven. After a long and hectic day you finally arrive. Someone waits — attentive, tending, considerate, concerned. There is a slow exhale.
---
EDUCATION
MFA Ceramics
New York State College of Ceramics at Alfred University, Alfred, NY
1993
BFA Ceramics
Kansas City Art Institute, Kansas City, Missouri
1991
Additional study, Jingdezhen Ceramic Institute, Jiangxi, P.R. China
1996
---
ACADEMIC EXPERIENCE
Associate Professor,
School of Art, Louisiana Tech University, Ruston, LA
Clarece Harp Lyles Endowed Professorship in Ceramic Arts
2005 – Present
Assistant Professor,
School of Art, Louisiana Tech University, Ruston, LA,.
1999 – 2005
Visiting Assistant Professor,
Pennsylvania State University, State College, PA
1998
Resident Potter,
Vermont State Craft Center, Middlebury, VT
1993 – 1997
---
EXHIBITIONS
2011 | La Mesa, NCECA Gallery Expo, Tampa, FL
2010 | La Mesa Santa Fe, Santa Fe, NM
2010 | American Pottery Festival, Northern Clay Center, Minneapolis, MN
2010 | Ceramics Invitational, Ohio University Gallery, Athens, OH
2010 | Cup Exhibition, The Kiln Studio and Gallery, Mobile, AL
2010 | Art of the Pot Reunion Cup Exhibition, City Hall, Austin, Texas
2010 | La Mesa, Santa Fe Clay, NCECA Conference, Philadelphia, PA
2010 | Inside, Outside and On The Table, Southern Arkansas Art Center, El Dorado, AR
2010 | Table of Elements, Manchester Craftsmen's Guild, Pittsburgh, PA
2010 | 8 Fluid Ounces, Shaw Center for the Arts, Baton Rouge, LA
2009 | Art of the Pot Reunion Exhibition, Austin, TX
2009 | La Mesa, Santa Fe Clay, NCECA, Phoenix AZ
2009 | Made in Clay, Greenwich House Pottery, New York, NY
2008 | The Artful Tabletop, Lyndenhurst Historical Museum, Tarrytown, NY
2008 | Cup Exhibition, Santa Fe Clay, Santa Fe, NM
2008 | Art of the Pot Reunion Exhibition, Authenticity Gallery, Austin, TX
2008 | Dallas Pottery Invitational, Southside Lamar Gallery, Dallas, TX
2008 | Made in Clay, Greenwich House Pottery, New York, NY
2008 | 8 Fluid Ounces, Shaw Center for the Arts, Baton Rouge, LA
2008 | La Mesa, Santa Fe Clay/NCECA, Pittsburg, PA
2008 | pot POURri, Clay Art Center, Port Chester, NY
2007 | Winterfest 2007, Baltimore Clayworks, Baltimore, MD
2007 | Teapots x 90, Xen Gallery, Saint Louis, MO
2007 | Unadorned, Santa Fe Clay, Santa Fe, NM
2007 | Ladies in White, Goodall Gallery, Louisville, KY
2007 | The Kansas City Pot Revisited, Mellwood Arts Center, Louisville, KY
2007 | Made in Clay, Greenwich House Pottery, New York, NY
2007 | La Mesa, Santa Fe Clay/NCECA, Louisville, KY
2007 | Raise a Cup for Art, Shelburne Craft Center, Shelburne, VT
2006 | Art of the Pot, Clayways Studio and Gallery, Austin, TX
2006 | Approaches to Utility: Ceramic Invitational, Columbus State University, Columbus, GA
2006 | 8 Fluid Ounces II, Louisiana State University Gallery, Baton Rouge, LA
2006 | Mentor/Mentored, Rock Creek Gallery, Portland Community College, Portland, OR
2006 | La Mesa, Santa Fe Clay/NCECA, Portland, OR
2005 | Made in Clay, Greenwich House Pottery, New York, NY
2005 | Drinking Vessels, ZENCLAY Gallery, Morgantown, WV
2005 | 8 Women – 8 Perspectives, Red Star Studios, Kansas City, MO
2005 | Recent Work – Anne Kittrell Gallery, Fayetteville, AR
2005 | White, Santa Fe Clay, Santa Fe, NM
2005 | White on White, Sub-Basement Art Studios, Baltimore, MD
2005 | Porcelain, Frohring Art Gallery, Hiram College, Hiram, OH
2005 | White on White, Elaine Jacob Gallery, Detroit, MI